Bibliomotion Launches 'Digital to the Core' by Gartner Analysts Mark Raskino and Graham Waller
Shevaun Betzler
-
www.prweb.com
-
Technology: Enterprise Software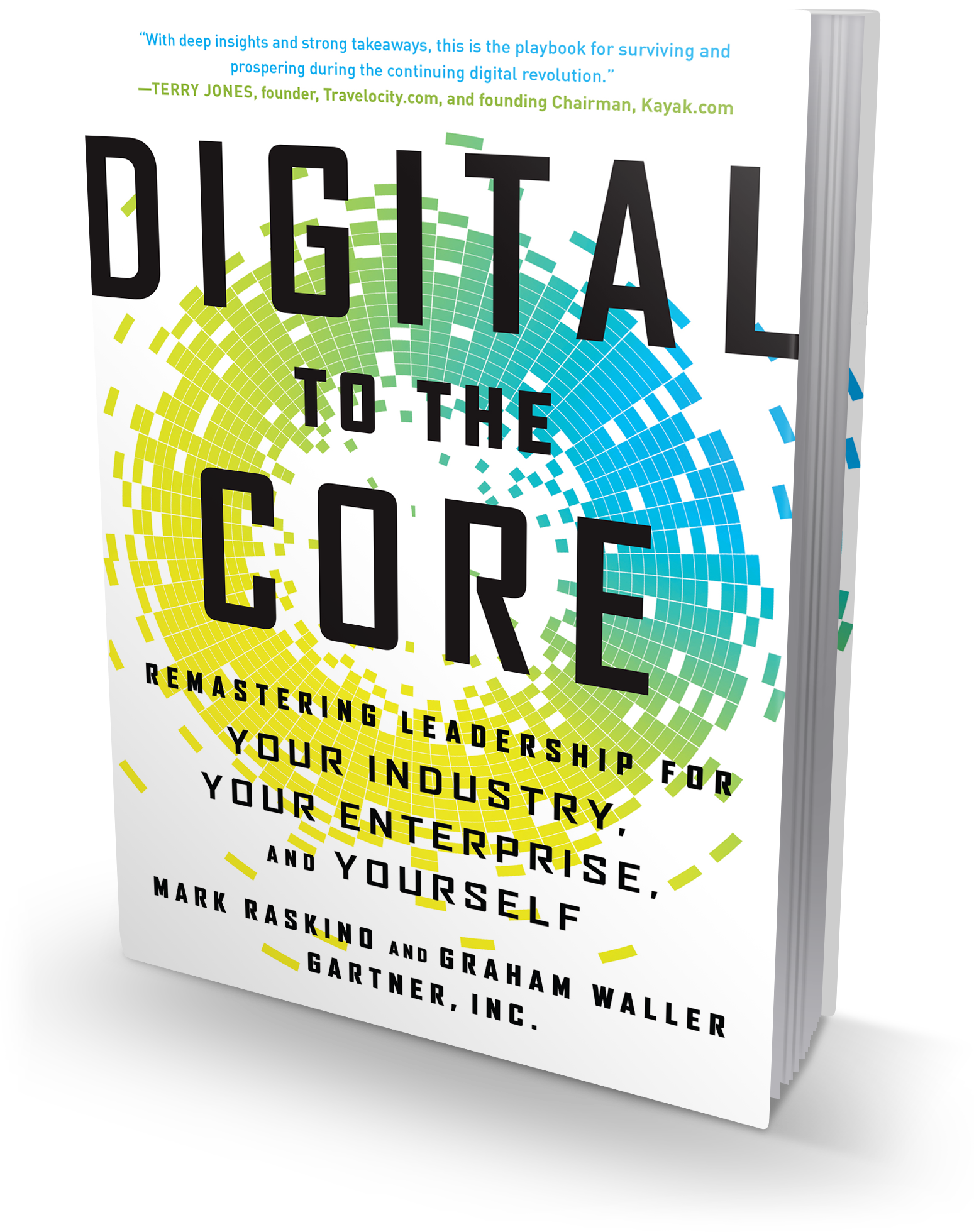 DIGITAL TO THE CORE: Remastering Leadership for Your Industry, Your Enterprise, and Yourself by Mark Raskino and Graham Waller ( Bibliomotion, October 20, 2015) One of the greatest challenges leaders face today is convincing their organizations to take the unknown path toward a digital future. The critical decisions they make along the way will determine whether their enterprises win big or ultimately fail. DIGITAL TO THE CORE: Remastering Leadership for Your Industry, Your Enterprise, and Yourself (Bibliomotion, Inc.; October 20, 2015) proves that every business, no matter how old, has the opportunity and the ability to digitally remaster its products and services. In it, Gartner analysts Mark Raskino and Graham Waller provide a framework to help leaders remap their industry, remodel their enterprise, and remake themselves.
To delve into the secrets of today's successful digital leaders, Raskino and Waller supplement Gartner's vast research base and annual executive survey data with more than thirty interviews of CIOs, CEOs, chief digital and data officers, and other C-level executives. In this book, readers will find many other examples of organizations and their achievements at the forefront of digital business, including:
Bharatiya Janata Party (BJP), India's largest political party, which used holograms to project a virtual version of its leader at real-world election rallies and crowdsourced its manifesto. Ford, which is betting big on connected cars, new forms of mobility innovation, and, one day, autonomous vehicles. Zappos, a retailer that believes someday soon your phone might be able to create a 3D scan of your foot, for a better-fitting shoe. Seoul National University Bundang Hospital, that has managed better outcomes for diabetes patients by remote monitoring of glucometers that the patients use in their own homes. BBVA (Banco Bilbao Vizcaya Argentaria), which is analyzing location data and historical payment transactions to create a better credit score for specific retail sectors, such as pizza restaurants. Tory Burch, a company that has created a successful wearable product by enveloping Fitbit activity sensors in its distinctive fashion accessory designs.
Beyond business transformation, Waller and Raskino assert that making the shift to digital business also requires leadership reinvention. They believe that leaders can clarify the uncertainty surrounding digital by focusing on three irrefutable and highly disruptive macro forces:
1. Resolution revolution: The effect of being able to see and sense what is happening in both the physical and digital worlds in ever greater fidelity and detail, then understanding and more precisely controlling things, events, and outcomes.
2. Compound uncertainty: The complex effects of digital change that undermine and shift the mind-sets, structures, and practices on which leaders have previously relied. The key uncertainties combine across technology, culture, and regulation creating unique 'triple tipping points' of opportunity.
3. Boundary blurring: The merging of digital and physical worlds, leading to alterations in the core products, propositions, and possibilities for industries as we know them and softening the dividing lines between industries. The effect then cascades across ecosystems, enterprises, people, and things.
Raskino and Waller explain that successfully remastering yourself as a digital leader means embracing an adventurer's spirit combined with an ambassador's art of persuasion and loyalty. With the right orientation and appreciation of the needed change, leaders can remaster themselves to amplify their digital vision and define a quest that inspires others to follow, despite the uncertainty.
"As a digital leader, you must be an attractor of the very best talent and the very best ideas that are tightly aligned with your specific digital purpose and sources of marketplace differentiation," they write. "You need to act as a digital era cartographer, remapping processes and structures in a way that realizes the value of digital while ensuring your people feel fulfilled and inspired to drive sustained results and impact."
While there is no simple strategic method for dealing with the ever-changing digital revolution, Raskino and Waller provide practical insights to help enterprises and leaders thrive in the face of uncertainty. DIGITAL TO THE CORE promises to help companies and their top leaders understand the full impact of digital change and integrate it at the core of their businesses.
About the Authors
Mark Raskino is a Distinguished Analyst and Gartner Fellow in Analyst in Gartner's Digital Business Leadership research team. Mr. Raskino works primarily with CIOs and CEOs. He covers business and technology macro trends and their implications for business strategy and technology management. Mr. Raskino's research includes Gartner's Annual CEO Survey, CIO Resolutions and CEO Resolutions. He is co-author with Jackie Fenn of Mastering the Hype Cycle: How to Choose the Right Innovation at the Right Time (Harvard Business Review Press, 2008) and is an accomplished and frequent keynote speaker.
Graham Waller is a Vice President and Analyst in Gartner's Digital Business Leadership research team. Mr. Waller works primarily with CIOs and executive level digital leaders with emphasis on contemporary leadership and realizing business value via technology. He is a co-author of the The CIO Edge: Seven Leadership Skills You Need to Drive Results (Harvard Business Review Press, 2010). Waller is also a co-author of Gartner's 2014 CIO Agenda: 'Taming the Digital Dragon' and 2015 CIO Agenda: 'Flipping to Digital Leadership'. He is a sought after keynote speaker, panel moderator and leadership workshop facilitator.
An Interview with Graham Waller & Mark Raskino, Co-Authors of Digital to the Core
Q: What prompted you to write this book?
A (Mark): We were encountering many executives who seemed to be waiting for a cookie-cutter way of delivering digital change. That inertia was dangerous for their organizations. For a decade or more they had become used to a diet of pre-packaged business-supporting technology enabled capabilities like CRM and ERP. But digital isn't like that – it requires more internal creativity and it goes to the core competency of corporations. So we saw a need to frame and explain the kind of original leadership that's needed today.
A (Graham): I have been passionate for at least a decade that people and leadership, not technology, hold the key to all significant business accomplishments. It is this drive that inspired my first book project 'The CIO Edge' published back in 2010. Today new combinations of digital and physical capabilities are creating compelling new customer value propositions and penetrating right to the core of leading enterprises' products. Leaders able to harness these disruptive forces are causing every industry to be digitally remastered. I believe we stand today at an inflection point where the need for true leadership, not management, has never been more acute. All leaders must now become digitally savvy leaders. An executive's ability to hone their leadership for the brave new digital era context is what will separate the winners from those who get left behind. There has never been a more exhilarating time for those of us passionate about leadership and the art of what is digitally possible.
Q: How do you define "digital to the core"? Why is digital advancement necessary in order to reshape industries?
A: We are at an inflection point where fundamental macro-level changes in the way information and digital technology can be used to create value. For example, new kinds of sensor data create new opportunities for analysis and services. Digital technologies can now penetrate right inside products – even clothing, sports equipment, and cigarettes. These factors shift the emphasis from technology as a process centric tool for internal efficiency, to technology as a data centric tool for significant product, business model and customer proposition innovation. When that happens there is a switch of emphasis from IT as a support function to 'tech' as a core competency. Hence digital to the core.
Q: What is digital's role in leadership success? What kinds of risks and challenges do leaders face when they shift their businesses to digital?
A: We believe that every industry will be 'digitally remastered'. This means its products and services will be envisioned and reengineered for the digital age. Right now that's most obvious in the car industry. For example, executives in that sector can foresee a significant percentage of the next generation of urban customers giving up private car ownership, in favor of using some future Uber-like platform or peer-to-peer ride-sharing model. In parallel, autonomous self-driving vehicles are fast emerging as a reality. One day perhaps robot cars will arrive at your location to transport you on-demand. This is a radical departure from existing automotive company business models and core competencies. The risks are that non-traditional competitors bring new digital era competencies to an industry in ways that change the rules of the game. The challenge for leaders is to rationalize, justify, and convince their organizations to go on an unknown and sometimes perilous journey to that digital future – or face being disrupted.
Q: In the book, you write that external influences must first be considered before a business attempts digital change. How are customers and their insights as consumers pivotal to a business' digital transformation?
A: Digital product change opportunities are now so profound they can leave executives disoriented. For example customers do still want to read long-form written fictional works – however they may no longer want those as paper printed books. The substitution of beach-read paperbacks by e-book downloads seems obvious now but some publishing executives denied it was a possibility when Amazon first introduced the Kindle a few years ago. Beyond substitution, sometimes digital technologies can be used to tackle completely unmet customer needs. For example, we can argue that tennis players would always have loved to understand how they played their game shot-by-shot, but there was no way to provide that level of data capture and detailed analysis. This can be accomplished with today's technology and we explain early in the book how tennis racquet manufacturer, Babolat, changed the game of tennis. Successful digital transformation requires focus and there is no better place to start than outside-in. Digital leaders marry what's now possible via digital technology with customers' unmet needs.
Q: As leaders work to redefine their business strategy, what are the key steps they must take to reinvent the workplace culture accordingly?
A: Leaders must prompt their organizations to accept that digital change is essential, not optional. The complacency must be tackled because even if today's close competitors have the same inertia, it is likely a new entrant will apply digital to steal customers from all. Customers themselves will become restless and disaffected if your products don't become digitally enhanced, while those they experience from other industries do. To deliver that change, workplace culture needs to be more innovative, faster paced and less risk adverse. For example, it can become more experimental and iterative in the way it uses technology to improve products and customer experiences. Often organizations need to become more open in their culture, to participate in the digital ecosystems that provide the whole customer solution. Many corporate cultures need to become more respectful and supportive of the "techies" in their midst, like Apple or Google would be – rather than dismissive of them as just a support service to the real business.
Praise for Digital to the Core
"With deep insights and strong take-aways, this is the playbook for surviving and prospering during the continuing digital revolution." – Terry Jones, founder Travelocity.com, founding Chairman Kayak.com
"As digital technologies penetrate into almost all products and services, they become more disruptive in every industry. Knowing that is easy; understanding and leading the required change is hard. Digital to the Core is a book that will help leaders find their pathways to success." – Don Tapscott, author of Wikinomics and, with Alex Tapscott, the forthcoming Blockchain Revolution
"Since leading a digital transformation in the airline industry, many C-level executives have asked me how they can generate similar transformation in their business. Digital to the Core lays down a solid framework with actionable takeaways for leaders to drive this change." – Glenn Morgan FBCS, Head of Digital Business Transformation, International Airlines Group.
"If the digital revolution has not yet hit your business, it soon will do. The authors argue the case for not just navigating digital business, but for embracing it and offer helpful frameworks for all senior executives in rising to the challenge." – Michael Earl, Emeritus Professor of Information Management, Oxford University
"It's too late to catch up with digital, but it's a great time to leapfrog. This book gives you practical clues about which way to jump." – Bob Johansen, author and Distinguished Fellow, Institute for the Future, Palo Alto, CA
"Using the power of technology, the internet and the internet of things new competition pops up from the most unexpected corner, requiring traditional companies to reinvent themselves to survive. This book provides excellent thought provocation and frameworks to start this journey towards a sustainable digital business." – Sabine Everaet, Europe Group CIO, The Coca-Cola Company
"In Digital to the Core, the authors expertly challenge us to understand that never before have we grappled with strategic, cultural, and market force changes so significant. Every business model is being upended. Every customer expectation is rising to new heights. The digital revolution is underway and survival requires way more than surface level tactics." – Rob Carter, CIO, FedEx Corporation
About Bibliomotion
Bibliomotion is a book publishing house designed for the new publishing landscape. While many publishers work to retrofit old processes for new realities, Bibliomotion was founded by book-industry veterans who believe the best approach is a fresh one – one that focuses on empowering authors and serving readers above all else. Moving away from the top-down model that has dominated the publishing process for years, we give each member of the team – including the author – a seat at the table from the very beginning and in doing so, work side-by-side to launch and sell the best content possible, making it available in a variety of forms.