US Airways' last flight evokes 'golden age'
Thom Patterson
-
edition.cnn.com
-
CNN.com - Technology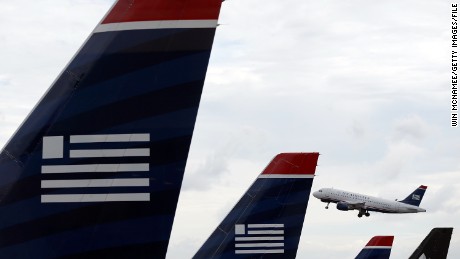 Story highlights US Airways' final flight is this weekend between Philadelphia and San Francisco The airline -- which dates back 76 years -- has been phased out in a merger with American Airlines in 2013 The "golden age" of airline travel was fancier, but it also was more expensive (CNN) It's the end of the line for US Airways.
The airline that started as a tiny airmail service 76 years ago is retiring as part of a 2013 merger with American Airlines. The final US Airways flight is scheduled to take off from Philadelphia on Friday.
It's a small part of a huge trend that's affecting how more than 660 million domestic air travelers fly every year .
Fourteen years ago, the United States had 10 major domestic airlines. Now, the competing major carriers have merged into four: American, Delta, Southwest and United.
Together, they control about 87% of the domestic market, MIT's International Center for Air Transportation said.
Read More Is that a good thing for travelers looking for lower airfares?
"I don't think it's bad at all," said Brett Snyder of airline industry blog The Cranky Flier . "Fares have come down lately. You still see these guys fighting with each other. But is there as much competition as there was? No, of course not, because there are fewer carriers."
Snyder, who spent more than a decade working for United, USAir and America West, called it "rational competition" among "smarter airlines" that know how to make a profit. "I guess from the customers' standpoint, you could argue that it would be better to have 20 tiny airlines losing money and taking you places cheap. But that's not sustainable."
Infographic shows airline mega-mergers
Folks who think airfares are too high may be interested to know that domestic air travel is 17% cheaper in inflation-adjusted dollars than it was more than 20 years ago, according to federal statistics . But we also have to pay extra on some carriers to check bags and get seat assignments, which used to be included in the price of a ticket.
Also notable is that the Justice Department is investigating "possible unlawful coordination" of seat availability by airlines, allegedly to prop up ticket prices.
What about services?
Travelers give mixed signals about airline service.
Sometimes, the feedback is good: A J.D. Power and Associates passenger survey of airlines in North America released in May showed a record high satisfaction ranking for in-flight services; boarding, deplaning and baggage; flight crew; aircraft; check-in; and reservations.
But sometimes, the feedback is not so good: The number of passenger complaints to the Department of Transportation is up.
My very last flight on @USAirways . Farewell to a historic brand. #avgeek pic.twitter.com/1fKzp2FwzS
— Steve McCoy (@stevejmccoy) October 7, 2015 It really is a different world now, compared with the days before the federal government deregulated the airline industry in 1978.
Back then, authorities could set fares and choose routes. That made it hard for airlines to fill all the seats on every flight.
13 photos: America's defunct airlines On Friday, October 16, US Airways will begin its final flight after a tenure that stretches back 76 years. The brand was eliminated as part of a 2013 merger with American Airlines. Flight 1939 will fly from Philadelphia to San Francisco and back again. Click through the gallery to see how many of these out-of-business airlines you can remember. Hide Caption 1 of 13 13 photos: America's defunct airlines Allegheny Airlines – US Airways started in Pittsburgh as All-American Aviation, which began as an airmail service in 1939. By the '40s and '50s, it was flying passengers to and from Maryland, New York, Ohio, the District of Columbia and Pennsylvania. In 1953, it changed its name to Allegheny Airlines. In 1968, Allegheny began a long tradition of acquiring airlines by merging with Lake Central Airlines. That allowed it to expand its routes to Indiana, Missouri and Illinois. In 1972, Allegheny merged with Mohawk Airlines. Allegheny's livery looked like this in 1975. Hide Caption 2 of 13 13 photos: America's defunct airlines USAir – In 1978, Allegheny renamed itself USAir. Later, the airline changed its paint scheme to this polished aluminum exterior, which saved fuel because it was lightweight. Hide Caption 3 of 13 13 photos: America's defunct airlines Piedmont Airlines – In the 1980s, USAir continued its strategy of growing by acquiring. In 1986, it bought San Diego-based Pacific Southwest Airlines, allowing it to gain a foothold in the West. USAir swallowed North Carolina-based Piedmont Airlines in 1989, making USAir a major player in the Eastern United States. Before the merger, Piedmont sponsored NASCAR driver Terry Labonte in 1986. Hide Caption 4 of 13 13 photos: America's defunct airlines Continental Airlines – Continental Airlines started in 1934 as Varney Speed Lines, which flew one route from El Paso, Texas, to Pueblo, Colorado. It renamed itself Continental Airlines in 1937 and began buying airplanes and expanding its service. In 1953, Continental merged with Pioneer Airlines, and by the end of the decade, it was flying jetliners. Expansion continued into international routes, including Asia and Europe. In the 1980s, its parent company, Texas Air Corporation, bought Eastern Airlines and PeopleExpress. A megamerger announced in 2010 between Continental and Chicago-based United Airlines resulted in the death of the Continental brand in 2012, after 75 years in business. Hide Caption 5 of 13 13 photos: America's defunct airlines Northwest Airlines – Northwest Airlines started flying passengers in the upper Midwest in 1927. In 1947, it began service from Minneapolis to Tokyo, Seoul, Shanghai and Manila, renaming itself Northwest Orient. It merged with Republic Airlines in 1986 as a way to expand its domestic routes and feed its departure points to Asia. It also dropped the word "Orient" from its name. In 1988, Northwest was the first domestic airline to ban smoking on all flights. Like many airlines after 2001, Northwest felt challenges from a new economic environment. It filed for bankruptcy in 2005 and then emerged. A megamerger with Delta Air Lines was announced in 2008, resulting in the death of the Northwest brand in 2010. Hide Caption 6 of 13 13 photos: America's defunct airlines ValuJet and AirTran – Atlanta-based ValuJet, launched in 1993, made a huge splash in the air travel industry with its low price structure but nearly went bankrupt after a 1996 crash left 110 people dead. A subsequent investigation revealed a long list of safety citations that sharply eroded public confidence. In 1997, ValuJet merged with Orlando, Florida-based AirTran Airways. Keeping the AirTran name, the merged airlines continued ValuJet's discount pricing philosophy while adding amenities for business travelers. In 2010, AirTran merged with Southwest Airlines in a deal valued at $1.4 billion. After integration into Southwest, AirTran's final flight was in 2014. Hide Caption 7 of 13 13 photos: America's defunct airlines Trans World Airlines – Trans World Airlines essentially taught Americans how to travel by airplane. Dating to 1930, it eventually saw its heyday under aviator/businessman Howard Hughes, who transformed TWA into an industry innovator. In the 1980s and '90s, it suffered through tough economic times, until it was bought by American Airlines in 2001. Hide Caption 8 of 13 13 photos: America's defunct airlines National Airlines – National Airlines was founded in Florida in 1934. By the 1950s, its routes stretched across the U.S. East and Gulf coasts. Eventually, the airline established routes from Florida to California and in the 1970s added flights from Florida to London. Pan Am acquired control of National in 1980. Hide Caption 9 of 13 13 photos: America's defunct airlines Pan American – Pan American -- better known as Pan Am -- grew from an airmail service linking Florida and Cuba in 1927 to an airline with 150 aircraft flying to more than 85 nations. After World War II, Pan Am flew Lockheed 1049s, aka "Clippers," seen here. At its peak, Pan Am was the gold standard for luxury air travel. It was the first airline to fly Boeing's 747 Jumbo Jet. Rising fuel prices and other factors created financial burdens for Pan Am, and it declared bankruptcy in 1991. Hide Caption 10 of 13 13 photos: America's defunct airlines Eastern Airlines – Along with TWA, American and United, Eastern Airlines was one of the Big Four carriers that dominated passenger air travel during much of the 20th century. One of its innovations was an hourly shuttle linking New York, Washington and Boston starting in 1961. In the '70s, Eastern's advertising slogans such as "The wings of man" and "We earn our wings every day" became well-known. Stiff competition from no-frills airlines pushed Eastern to sell to Texas Air Corporation in 1986. Later, Texas Air sold Eastern's shuttle service to businessman Donald Trump. Challenges such as labor disputes and high fuel prices forced Eastern to file for bankruptcy in 1989. By 1991, it was over. Eastern was out of business. Hide Caption 11 of 13 13 photos: America's defunct airlines Braniff Airways – Braniff Airways -- based in the Southwest -- lasted for nearly 52 years before it died, another victim of the highly competitive market that developed after government deregulation. During its peak years in the 1970s, Braniff established many international routes, including flights to Europe, Mexico and South America. Hide Caption 12 of 13 13 photos: America's defunct airlines PeoplExpress – PeoplExpress was a low-cost airline founded in 1981 to take advantage of government deregulation of the airline industry. It established its main hub at Newark Liberty International Airport beginning with domestic flights and later expanding to London's Gatwick Airport. It really was no-frills: Passengers paid their airfare in cash while aboard the aircraft shortly after takeoff. The carrier purchased Frontier Airlines in 1985 but was unable to overcome the burden of rising debt. In 1987, PeoplExpress died when it merged with Continental Airlines. Hide Caption 13 of 13 "In the old days, it seemed like there was always a seat next to you that was empty, and people took that for granted," said transportation expert Clifford Winston of the Brookings Institution Washington think tank . "Today, you laugh and say, 'wait a minute, what kind of rat ship were they running then?' "
Are we better off now? "In the long run, yes," Winston said.
'A golden time'
To get a taste for air travel before deregulation, meet Capt. William Compton.
In 1968, Compton began a decadeslong career flying for the iconic Trans World Airlines, aka TWA.
The passenger experience on TWA and other major airlines "was really, really good," he recalled. "Service was fantastic. People got on the airplane with a coat and tie. The seats were wider and longer. The food was better. It was a golden time."
A lot of airlines in the old days "weren't making any money, but they were producing a great product," Compton, now retired, said last week from his Florida home.
More about the 'golden days' of airline travel
TWA was an airline that pretty much showed America how to travel by airplane. It was the innovator. In 1930, it launched one of the first scheduled coast-to-coast passenger airline flights. It was among the first airlines to fly four-engine planes with pressurized cabins that could soar high above bad weather. It basically invented in-flight dining, figuring out the best way to offer every passenger a fancy meal, served with cloth napkins, tablecloths, real silverware and china.
Some of us domestic air travelers have seen these things only on YouTube . For us, a three-course meal on a domestic flight amounts to a packet of King's Honey Roasted Peanuts, a Biscoff cookie and a tomato juice in a plastic cup.
In the '60s and '70s, "people wanted excellent service, so they had to pay more," Compton said. "Now, people don't want to pay more, they want to pay less, which makes sense." That prompts airlines to fill every seat to keep prices low.
JUST WATCHED Could airline travel be like this again? Replay More Videos ... MUST WATCH
Could airline travel be like this again? 01:59 TWA didn't fare well after deregulation. Wall Street billionaire Carl Icahn bought it, took it private and sold off valuable international routes. After multiple bankruptcies, TWA was purchased by American Airlines in 2001. By that time, Compton was CEO. He and Capt. Don Jacobs piloted TWA's final flight, a short hop in a 155-seat MD-80 from Kansas City to St. Louis.
"I remember we did a low pass across the runway, which was exciting," said Compton, now 68. "We actually made a nice touchdown landing and taxied to the gate, to be met by hundreds of employees .
"It was sad in some ways, but it was a lot of fun."
US Airways' legacy
On Friday, US Airways' final flight will soar into the sunset, ending its tenure with nearly 6,700 daily flights, more than 100,000 employees and about 8% of U.S. domestic passengers.
It also leaves in its wake a few names that might sound familiar. Until 1997, US Airways was called USAir. In the 1970s, it was Allegheny. But it all started in Pittsburgh as All-American Aviation, which flew single-engine planes delivering airmail in 1939.
"Looking back to when it was Allegheny, US Airways was the local service airline that could," Snyder said. "Its legacy was being able to break out of a pack of local service airlines to pull itself up by its bootstraps and build itself into something much larger."
Snyder, who cut his teeth in the business as an intern at USAir, admits a soft spot for US Airways. Nonetheless, he said, the airline's record during the 1980s was "somewhat checkered at best" after it acquired Pacific Southwest and Piedmont airlines.
In 2005, US Airways merged with America West, keeping the US Airways name. "Here's the reality: US Airways effectively died in 2005," Snyder said. "There's no question about it; America West took over. Despite the US Airways name sticking around, it just became a bigger America West."
Then, eight years later, US Airways' top management essentially took control of American Airlines during their merger.
What's on the radar?
As for the future, American says it plans to keep US Airways' big hub in Charlotte, North Carolina, the Charlotte Observer reports .
Are more megamergers coming? Will four be cut to three? Unlikely, says Winston. "Mergers are very risky propositions. They don't necessarily work well." Corporate cultures can clash. Merging complicated computer reservation and scheduling networks can be bumpy, at best. Just ask United Airlines, which was still struggling to smooth its operations five years after its megamerger with Continental Airlines, the Wall Street Journal reported .
my dad is going to be on the last ever usairways flight and I think that's pretty cool ✈️ http://t.co/M9C6iOe6BC
— Valerie Smith (@ValerieeBrookee) October 1, 2015 Appropriately, US Airways' last run will be Flight 1939, the year it all began. The flight will depart Friday from Philadelphia, heading to Charlotte and then Phoenix and San Francisco. From there, it will take off again and fly east, ending its celebratory journey on Saturday back in Philly, in the state where its history began.
There's one more thing US Airways might be remembered for: a heroic emergency landing by Capt. Chesley "Sully" Sullenberger and First Officer Jeffrey Skiles in January 2009.
The successful emergency landing in 2009 in the Hudson River of US Airways Flight 1549. After a bird strike during takeoff from New York's LaGuardia Airport, they landed their crippled plane safely in the Hudson River, saving all 155 people aboard. That bit of US Airways history will be remembered as one of the most upbeat and heartwarming stories of 2009 .
Now, that aircraft lives inside the Carolinas Aviation Museum in Charlotte . Letters stretching across its fuselage read: US Airways.
Not a bad legacy to leave behind. Not bad at all.