Tried & tested: Wi-Fi speakers | Technology
Ian Tucker
-
www.theguardian.com
-
Technology | The Guardian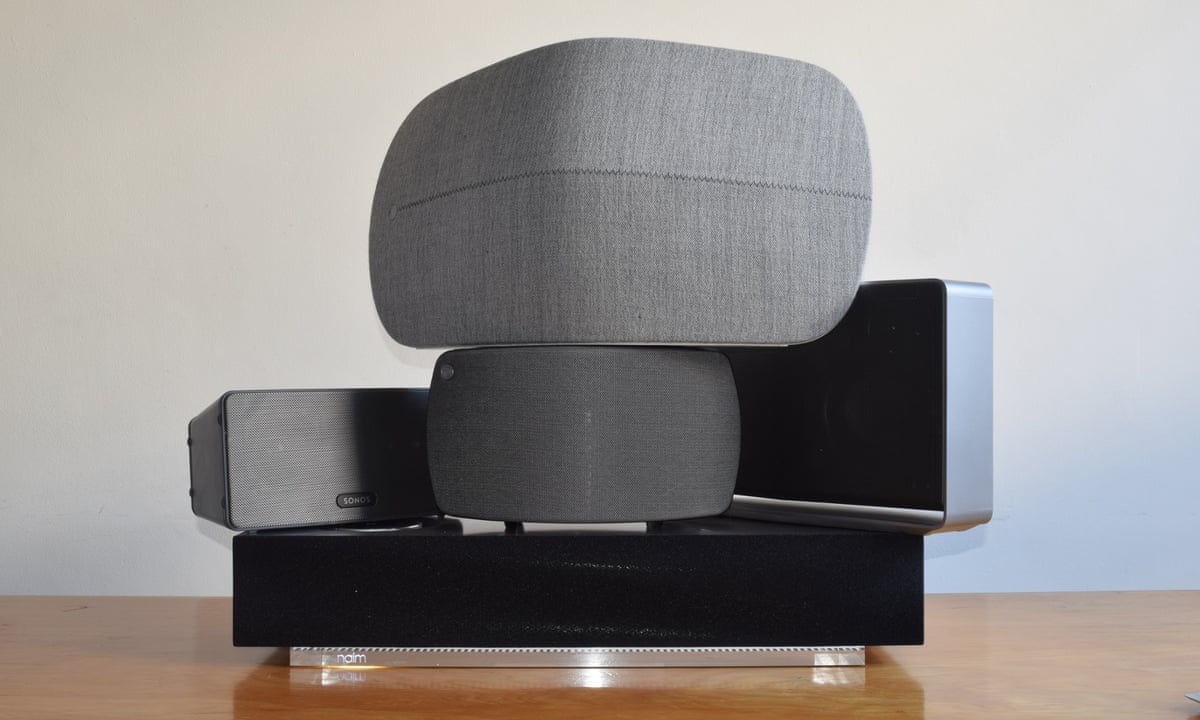 B eing able to saunter around your home with your favourite tunes following you from room to room is an appealing idea. Being able to do this without the aid of wires is even more seductive. Fold in a subscription to Deezer or another streaming service and you should have a seamless way of bathing in music old and new throughout your domicile, but which multi-room speaker system should you opt for to make this dream come true?
Multi-room systems work by piggy-backing your home wi-fi network to broadcast music from your computer, tablet or smartphone to speakers dotted around your home. The music could either be ripped or downloaded files, tunes from a streaming service such as Spotify or Tidal , or content from a internet radio channel.
In many ways Sonos created the wi-fi speaker product category and their success has spurred a bunch of new entrants into the market, some undercutting them on price, others aiming to supply superior sound and features. Here we test out a Sonos and number of others. To judge their sound quality a playlist of twenty odd mp3, mp4a and AIFF files were streamed from a MacBook and an iPhone 6.
Bang & Olufsen BeoPlay A6 £799; Five amp-drivers, 240w output in total; Airplay; supports seven audio formats
Facebook Twitter Pinterest The mid-century stylings of the Bang & Olufsen
Unsurprisingly for a Danish product this zig-zagged stitched fabric form would fit seamlessly into a mid-century modern interior – you'd be forgiven for mistaking the BeoPlay for a Knoll headrest . The combination of the upholstery (which is available in different colourways, natch), a hand grip and touch sensitive controls make it very tactile – for a speaker. It's part of a beautifully designed range from the premium hi-fi manufacturer, which includes a unit which resembles a satellite dish.
Set-up using Airplay took less than a minute. It prefered non-electronic music, stirring a respectable amount of goosebumps from the opening of Van Morrison's Saint Dominic's Preview , revealing previously unheard of grime in D'Angelo's Chicken Grease and Husker Dü's Could You Be The One? never felt more hopeful. For the first time I heard James Blake's feet working the piano pedals during Limit to Your Love . Its reproduction of drums, percussion and vocals is on the button. Although sometimes these subtleties were lost at lower volumes.
Related: Is Apple Music worth paying for?
However, when I moved the unit to different part of the room (which, incidentally, was closer to my wi-fi router) and booted it up again, it became extremely temperamental, refusing to establish a connection to my iPhone and sometimes randomly playing elevator music and spoken-word German radio. Neither of which I subscribe to. After numerous restarts it began working again, only to fail the next day. At which point I gave up.
A day later I downloaded the BeoPlay app and it paired-up instantly and everything was hunky-dory again. And no more speaker the deutsch.
While Airplay was working I found volume control from the buttons of an iPhone jumpy, but the elegantly designed BeoPlay app contains an easier to adjust dial. In addition, running your finger across the top of the speaker offers finer control via a touch sensitive strip. Although having to leave the sofa to change volume slightly defeats the object of having a wi-fi device.
Verdict: Beautiful design and sounds, not just for retro-lovers. The premium multi-room option.
Naim Mu-so £895; Six amp/drivers, 450W; AirPlay; optical input
Facebook Twitter Pinterest The Mu-so: great sound, not so great name
This is the boutique British hi-fi company's first foray into wi-fi. So far the Mu-so stands alone in a multi-room range, meaning if you want another one for the bedroom or the kitchen you'll have to buy a second, and they are rather large and expensive.
But if you've got generous rooms and cash reserves, seriously consider investing. It has an optical input so it could also double as a soundbar for your telly. The construction from aluminium, wood and acrylic is substantial and the design elegant and understated.
Set-up with Airplay instantaneous and faultless, no drop-outs or pairing issues. And although the Mu-so has a backlit touch-sensitive control disc it's simple to control it from your phone. Niam's app is okay, mainly useful for streaming radio and selecting different input methods. Of those tested this device came with the largest set of instructions yet I didn't have to refer to them once.
Across all volumes the Mu-so delivered rich, resonant bass; lush and expansive strings and; cleanly defined percussion. It wasn't phased by any genre or age of music – Burial's dubstep and the Ibrahim Ferrer's Cuban jazz all sounded pretty much as intended, plus James Blake's foot pedals sounded even more resonant than with the BeoPlay – and when the deep, wobbly bass section started it sounded like a helicopter was hovering outside the window.
Verdict: The best sound on test and very stable software. If they release small and medium sized versions they'd have a Sonos-beater.
Sonos Play:3 £259; Three driver-amps; no Bluetooth or jack input
Facebook Twitter Pinterest The small but perfectly sounding Sonos
Sonos are a Californian company who pretty much invented multi-room wi-fi speakers. The Play:3 is their mid-range speaker, it might have been more appropriate to test the next unit up in the range the Play:5 against these larger speakers but the company didn't have one available. This is the bedroom rather than living room-sized unit.
At 30 minutes this was a long set-up process. I've tried Sonos products before and I recall the set-up was pretty speedy, but my previous history with Sonos confused the app, so I had to delete and reinstall it. Then it appeared to kill my wi-fi router, so I had re-boot that. After a bit of mucking about everything eventually worked. This was the only device that harvests your email and postcode before you are allowed to listen to music with it.
Related: Time to embrace the horrors of your Spotify playlist data
The unit is solidly put together and the design is unobtrusive. The sound is detailed and full of subtlety, vocals are clear and distinct and while bass sounds don't boom they are sharp and clear rather than thuddy. Overall the sound is pretty amazing for its size and price. If you buy a second one it is possible to set them up in a stereo arrangement.
You can't operate Sonos units without using the Sonos app, so you'll have to find your way around a new interface but it does allow access to an expansive range of streaming and radio services such as Tidal and Deezer so long as you've paid your subs.
The last I used Sonos devices they interfered with my wi-fi connection causing lots of drop-outs so I abandoned them, however I didn't experience any of these problems this time around.
Verdict: Still the gold standard for multi-room sound, value and adaptability.
LG Music Flow H7 £279; Two amps; 70W
Facebook Twitter Pinterest The LG: at the forefront of un-design
Part of LG's large range of wi-fi speakers, this unit's normcore look isn't going to draw any envious glances.
The H7 doesn't feature Airplay, so set-up, for Apple users at least, is slower since you have to use download LG's Music Flow app and input your wi-fi password. Pairing however worked first time.
If you'd rather play downloaded files than use streaming services you have to do that via the medium of LG's battery-sucking app.
The sound isn't particularly rich, frequencies often sounded topped or bottomed off, meaning some songs didn't sound as vibrant as they did on some of these other devices. Ultimately it sounds more like AM rather than FM.
Verdict: For £210 you could pop down to Richer Sounds and buy a Onkyo streaming amp plus a pair of Wharfedale speakers , and spend the surplus on a few months subscription to your favourite streaming provider. Or if you're dead-set on multi-room save £20 and buy the Sonos. Your call.
Pure Jongo T4x £150; two driver-amps; 50w; Bluetooth Caskeid
Facebook Twitter Pinterest Pure Jongo – we couldn't have put it better ourselves
Well-known for making digital radios, the T4x is part of the Hertfordshire company's multi-room range. Construction is a bit plastic-y plastic.
Set-up was kafkaesque. After installing the Pure Connect app the unit couldn't be found on my wi-fi network. The support section of the Pure website explains that there were issues with BT HomeHubs 4 and 5 – ie issues for this reviewer and a lot of other UK broadband customers. It suggested downloading a software update that would fix the problem. All the other speakers in this test downloaded updates either automatically in the background or via their apps. With the Pure it is necessary to download the update to your computer, transfer it to a USB stick, then plug the stick into the speaker whilst holding the mute button and then wait five minutes for the update to install. Tedious enough, but I tried this several times and the hoped-for green light didn't glow. The support site also suggests turning off the 5GHz band of your wi-fi router. So I logged into my router and disabled the 5GHz signal and repeated the software update rigmarole. Still didn't get the green light.
If all else fails, the support site suggests wiring your Jongo via an ethernet cable to your router. A splendid idea if the T4x had an ethernet socket.
It does have a 3.5mm jack input, so using a two RCA phono to jack cable I rigged it up to my Denon CD player. I slipped a Rod Stewart CD in the drawer and pressed play. Because of the mis-matched impedance it was neighbour-botheringly loud, so I hit the stop button. It would be unprofessional to judge the unit's sound performance on a few distorted bars of Every Picture Tells A Story .
Verdict: Not very good.